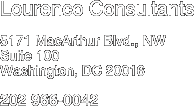 Projects, large and small, require compliance with the local codes, typically some variation of national model codes with a myriad of local amendments. This can be a daunting task for a design team working in a new jurisdiction. District of Columbia construction codes, including local amendments are particularly challenging for designers not familiar with the D.C. codes. Lourenco Consultants (LCI) provides a complete range of code consulting services to the development team through all phases of the project design and development process. These services include:
Code Analysis
Mindful of liability concerns, designers often interpret the code provisions more strictly than does the local code official. Lourenco Consultants' extensive experience in code enforcement provides our clients with expert guidance on the most effective application of the codes. A complete, accurate Code Analysis Report, tailored to the specific conditions of the project, provides early guidance to the design team, avoiding costly redesigns. Code analysis reports are recommended for new projects in the range of $10M and above. If started at the schematic drawings phase, a code analysis report allows early resolution of doubtful code interpretations and provides the basis to optimize regulatory allowances as the project proceeds.
Performance-based Compliance
Lourenco Consultants has in-house expertise to develop, review, and validate performance-based designs. Professional engineers with a combined experience of more than 70 years and diverse backgrounds apply their knowledge of building codes, fire dynamics and fire modeling to develop a solution that satisfies the needs of the architectural design and is inherently safe for the building occupants.
Waivers / Variances
When a client finds it necessary to seek an exception from the applicable codes, LCI can offer advice on alternative ways of achieving a safe environment without compromising design goals or the project schedule. LCI's staff provides expert guidance in negotiating the complex regulatory environment of each jurisdiction, in particular in the District of Columbia, to keep the client in compliance, while saving time and money. In negotiating exceptions, LCI offers the following services:
Preparation of code modification request. This request is a tool to address non-compliant items and may be a follow-up to other code consulting services. The request accounts for any practical difficulty or undue economic hardship that a builder or developer may face in strictly complying with the letter of the code and addresses the merits of the proposed solution to meet the intent of the code.
Preparation of alternative engineered design solution. As part of the code modification request, LCI proposes a solution that will meet the spirit and intent of the law without compromising public safety, health and welfare. Additional documentation may be produced to describe alternative materials and methods of design or construction and to show that they are equivalent to those required by the building code.
LCI • Code and Life Safety Consultants to the Construction Industry
© 2014 Lourenco Consultants. All Rights Reserved. Powered by: 360Pixs.com