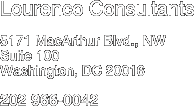 Since 2000, Lourenco Consultants (LCI) has been serving a wide range of clients in the construction industry and providing management support to municipal regulatory agencies. LCI works closely with clients to maintain project schedules and to maximize clients' resources.
Small Business Certification
LCI is a Certified Business Enterprise, certified by the D.C. Department of Small and Local Business Development as: For more information regarding LCI's CBE status, click here to
contact us
.
LCI • Code and Life Safety Consultants to the Construction Industry
© 2014 Lourenco Consultants. All Rights Reserved. Powered by: 360Pixs.com