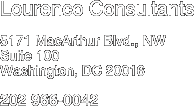 Lourenco Consultants (LCI) specializes in third-party plans review services, an option available to owners and developers in the District of Columbia. As the first private firm accredited to provide third-party plans reviews in all disciplines in Washington, DC, LCI is uniquely qualified to get the project through the regulatory process smoothly and in a timely fashion.
LCI performs plans reviews in all of the following disciplines:
In all third-party plans reviews, LCI follows procedures established by DCRA, including specific reporting requirements for all reviews.
To take advantage of third-party plans review, the project owner (or one of the owner's agents) contracts with LCI directly. LCI reviews the permit plans for code compliance and works with the design team to revise the plans as needed. LCI certifies the corrected plans on behalf of DCRA, which then approves the project and issues the building permit based on LCI's certification.
LCI • Code and Life Safety Consultants to the Construction Industry
© 2014 Lourenco Consultants. All Rights Reserved. Powered by: 360Pixs.com