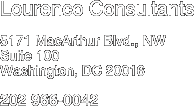 The District of Columbia has established a special program to allow for inspections by third-party agencies in lieu of DCRA inspectors. As the first private firm accredited to provide third-party inspections in all disciplines in Washington, DC, LCI is uniquely qualified to get your project through the inspection process consistently and timely.
Lourenco Consultants performs inspections in all of the following disciplines:
In all third-party inspections, LCI follows procedures established by DCRA, including specific reporting requirements.
LCI performs inspections for any and all phases of a project. Third-party inspections may be requested by the project owner or assigned by DCRA. In performing third-party inspections, LCI strives to make its inspection activity as compatible and coordinated with construction deadlines as possible. At the same time, LCI's scheduling flexibility can accommodate the unexpected. Our consultants work closely with clients to achieve code compliance with minimal disruption of the project schedule.
LCI • Code and Life Safety Consultants to the Construction Industry
© 2014 Lourenco Consultants. All Rights Reserved. Powered by: 360Pixs.com