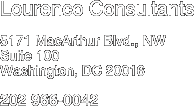 Lourenco Consultants (LCI) is a results oriented consulting firm providing services to the development industry in all areas of code compliance.
Incorporated in the District of Columbia in 2000, LCI quickly became the foremost company of its kind in the nation's capital, serving a wide range of clients and providing management support to municipal regulatory agencies. Carefully selecting only individuals with the right mix of experience, knowledge and desire to serve our clients' needs, LCI built a team that is able to think outside the box and focus on finding the best solution to each unique challenge.
Mission Statement
At LCI we strive to inform with patience, to enforce with fairness, to promote economy of means, to respect our counterparts, to value everyone's time, to enable deadlines, and to treat the goals of each project as if they were our own. In our daily work, we are fair to all who are affected by our work, we protect public safety and welfare, and we always adhere to the highest professional and ethical standards. We feel the responsibility to leave the built environment, at the end of each day, better and safer than we found it.
LCI • Code and Life Safety Consultants to the Construction Industry
© 2014 Lourenco Consultants. All Rights Reserved. Powered by: 360Pixs.com