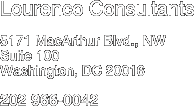 The D.C. Office of Zoning has an online version of the changed text of the latest print of the published regulations. It can be accessed by clicking on the title of this news text.
This online search is a two-step process that requires checking the online text and the Addenda-Errata Sheet for subsequent amendments. You can confirm if the posted Addenda-Errata Sheet contains the most current text amendments of interest to you by calling the Office of Zoning on (202) 727-6311.
The 2008 D.C. Construction Codes (2008 DCMR 12) were adopted on December 27, 2008 and became effective immediately, replacing the 2003 D.C. Construction Codes that had been in effect since January 2004. The 2008 DCMR 12 adopts the 2006 editions of the model codes published by the International Code Council.
LCI • Code and Life Safety Consultants to the Construction Industry
© 2014 Lourenco Consultants. All Rights Reserved. Powered by: 360Pixs.com